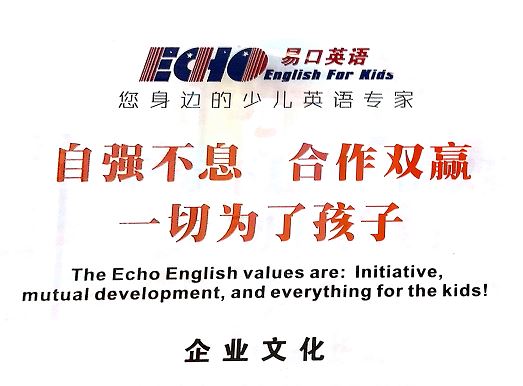 A Letter to Echo English Staff By the Board Committee
---
Welcome to join Echo English to start the cooperation with us. To help the children to build the surviving capability in the global village times, with the mission to cultivate the next generation for the world, Echo English focuses on promoting the English communicating skills for the Kids and help to expand their horizons into the world and comprehensive capabilities (IQ/EQ/FQ, leadership etc.) that is difficult to get from the traditional Chinese Exam education.
Believe Echo English should become one of the best English training institutes and occupy an important position in China Education cycle. With this great vision in mind, we're looking for the ones to join us who devote to education and follow the value of Echo English to work close to make it!
Echo English values are: Initiative, mutual development, and Everything for Kids. In fact this requires our staff to work proactively without close tracking (Initiative), to cooperate with the workmates, partners, customers and Echo English with the Win-Win attitude in mind (mutual development), to provide the teaching and service with quality from the perspective of our customer of kids and Parents (Everything for Kids).
Under the leadership of the Board Committee of Echo English, the management team is divided into three parts: campus operation (marketing, sales, and teaching etc) under the principal, accounting / budget planning and cost control support from the finance controller, and operation support under the HR and administration. Our strategy is: To improve the teaching and service quality constantly each day, to attract as many students as we can help to join, to train the students as many as we can and as early as possible, to avoid unnecessary waste of each penny to create value for Echo English to better serve the customers.
Echo English pays for the effort and pays for the result based on the individual's performance. Echo English will reward the stock share for the key staff that makes significant contribution. Echo English will share the operation profit and results with the staff so that Echo English is everyone's Echo English.
Please strictly follow the current procedures and policies of Echo English which may have some points to improve though. Your constructive proposals are welcome however they can be followed only after they get accepted to be part of the updated procedures and policies and approved by the authority.
Education is a career which needs a lot of love and devotion, patience, accountability, and carefulness for details. Please ask yourself toughly if you really CAN before you decide to stay with Echo English.
Echo English is growing fast and we're looking forward that you could grow accordingly on your teaching skills and leadership together. Let's work close to create the unbelievable miracles for the kids, the future of us in the world.
Board Committee of Echo English